Maximize Your Corporate Travel Experience with Executive Car Service in Jacksonville, Florida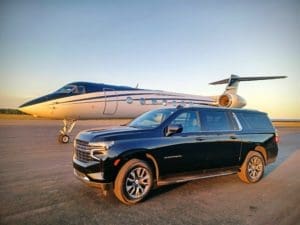 As seasoned travelers and business professionals, we understand the importance of reliable and efficient transportation when it comes to corporate events and conventions. Whether you're attending a crucial business meeting, a high-profile conference, or a major trade show in Jacksonville, opting for an executive car service can significantly enhance your experience. We are excited to share some insights into the numerous advantages it brings to corporate and convention transportation.
1. Unparalleled Comfort and Luxury
When you're on a tight schedule and facing the demands of a corporate event, comfort becomes a necessity. Our executive car service offers a fleet of top-of-the-line limousines that ensure a comfortable and luxurious ride. Sink into plush leather seats, enjoy climate control, and experience a smooth and relaxing journey to your destination. The attention to detail in the interior design creates an environment that allows you to recharge, focus, or even prepare for your upcoming engagements.
2. Punctuality and Reliability
Time is of the essence, especially when you're navigating through a busy schedule of meetings and events. With our executive car services, punctuality is a top priority. Our professional chauffeurs are not only experienced in navigating the city efficiently, but they also track your itinerary to ensure you arrive at your destinations promptly. Say goodbye to the stress of rushing from place to place and instead, focus on your business objectives with confidence.
3. Impressively Professional Image
First impressions matter, and arriving in style to a corporate or convention event can make a lasting impact. Our car service fleet of sleek, well-maintained vehicles exudes professionalism and sophistication, setting the tone for your entire experience. Whether you're hosting potential clients, partners, or important stakeholders, our executive car service helps you create a positive and impressive image right from the moment you step out of the vehicle.
4. Seamless Group Transportation
Large corporate groups attending conventions often face logistical challenges when it comes to transportation. Coordinating multiple vehicles or relying on public transportation can be both time-consuming and stressful. Our executive car service offers spacious vehicles that can accommodate groups of various sizes, ensuring that your team travels together comfortably and seamlessly. Our fleet includes several custom sprinter vans, late model black car SUVs and limo sedans as well as mini bus and coach service. This eliminates the hassle of arranging multiple rides and allows your group to stay connected and focused.
5. Customized Services
Every business trip is unique, and our Jacksonville car service is dedicated to catering to your specific needs. Whether you require JAX airport pickups, transportation between venues, or even a city tour for your clients, our services can be tailored to suit your needs. Enjoy the flexibility of having a ground transportation partner who understands the nuances of corporate travel and is committed to delivering a personalized experience.
6. Local Expertise
Navigating an unfamiliar city can be challenging, especially when you have a busy schedule to follow. Our chauffeurs possess extensive knowledge of Jacksonville and its surrounding areas, ensuring that you reach your destinations efficiently and without unnecessary detours. This local expertise also allows you to make the most of your downtime by exploring the city's attractions or enjoying a relaxing evening after your business commitments.
In conclusion, choosing an executive car service for your corporate and convention transportation needs in Jacksonville, FL offers a multitude of advantages that contribute to a seamless and successful business trip. From the comfort and luxury of our vehicles to the punctuality and professionalism of our chauffeurs, every aspect of our service is designed to elevate your travel experience. Impress clients, maintain your focus, and navigate your itinerary with ease, all while enjoying the convenience and comfort that an executive car service provides. So, the next time you're planning a business trip to Jacksonville, make the smart choice and opt for corporate car service with Jacksonville Black Car Limo Service – your gateway to stress-free and enjoyable corporate travel.