Jacksonville Car Service to Savannah GA – JAX Airport Limo Transportation to and from Savannah Georgia
Call (904) 463-4798 Now for information or transportation reservations for Black Car or Limo Service with our JAX Airport Car Service from any Jacksonville area location to Savannah GA.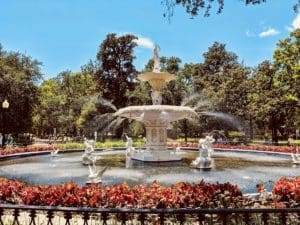 Jacksonville Black Car Limo Service provides safe quality transportation to or from Jacksonville – JAX airport and Savannah Georgia. Savannah is a must-visit historic destination. Select your choice of vehicle from our fleet of a plush Black Car SUV or luxury Limos with JAX Airport Car Service.
Let the professional drivers from Jacksonville Black Car Limo Service do the driving when you want to go From JAX Airport to Savannah, GA. Enjoy a charming southern escape where art, architecture, trendy boutiques and old ghost stories fill the days. Savannah GA is a place where cuisine comes straight from the ocean and cocktails are served with every meal. Discover the enchanting soul of Savannah and leave the driving to us.
Savannah has been named one of the "world's friendliest cities".  It has a world-class reputation for southern hospitality. Discover all this historic city offers when you book your Jacksonville to Savannah transportation with our limo and black Car Service.
Savannah is oldest city in the state of Georgia located in Chatham County. Established in 1733 on the Savannah River, the city of Savannah became the British colonial capital of the Province of Georgia. Later it became the first state capital. It was a strategic port city in the American Revolution and during the Civil War. Savannah is now an industrial center and an important Atlantic seaport. It is Georgia's fifth-largest city.
Today, Savannah is both historic and hip, full of character. Take a chauffeur guide tour the city with our limousine service from Jacksonville. See beautiful gardens, eclectic boutiques, edgy artwork and stately Victorian-era homes. Wander through 300 years of history in this walkable city. Visit its riverfront, the Victorian District, and the famous 22 park like squares with majestic gardens and amazing historic sculptures. Choose from a variety of one-of-a-kind Hotels, Bed and Breakfasts, and Modern Vacation Rentals. Visit the City Market, enjoy the many great restaurants and shops along River Street. Then enjoy Savannah's Beach at Tybee Island just over the bridge. You can take your time and enjoy it all if you book our Hourly Car Service.
Trust Jacksonville Black Car Limo Service to provide quality transportation to or from Savannah GA. Enjoy our JAX airport car service to or from your Jacksonville home, business or hotel in Savannah. We also provide limo service to the fast-growing neighboring community of Pooler Georgia. Because we only use clean, late model, well maintained vehicles driven by professional chauffeurs you will arrive safely, in style, on time and at the right price! to or