Jacksonville Car Service to Tybee Island GA – JAX Airport Limousine Transportation to Tybee Island Georgia
Call (904) 463-4798 Now for information or transportation reservations for Limo Service with our JAX Airport Car Service to Tybee Island from Jacksonville area locations.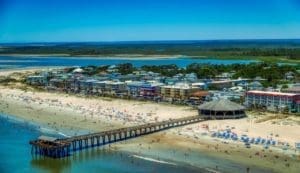 Jacksonville Black Car Limo Service JAX Car Service to Tybee Island GA provides safe quality transportation from Jacksonville to the amazing beach, dining and nature on Tybee Island. Plus it is your choice whether you want to travel to Tybee in a plush black car SUV or luxury limo sedan with our JAX Airport Car Service.
If you are going from your Jacksonville Florida home, hotel or the international airport our JAX Car service is a great way to travel from JAX to Tybee Island GA. These quotes from  visittybee.com paints a great picture of Tybee Island. "Located just 20 minutes from downtown Savannah. Facing due east, this Georgia barrier island has been a popular vacation spot since the late 1800s. Home to wide, clean beaches with warm and gentle waves, Tybee Island is the perfect escape for those who need a healthy dose of sand, sun and seaside bliss. – Summer Scenes Around Tybee Island -From endless sunshine to cool ocean breezes, visitors flock to Tybee in the summer to celebrate beach season." 
If you want to know more about Tybee Island life and its connection to historic Savannah, Georgia before you book transportation with our Black Car or Limo Service  check this out from visitsavannah.com gives some great detail about Tybee Island GA. "Feel the Atlantic Ocean breezes on Tybee Island, just 20 minutes from downtown Savannah. Get cozy in charming cottages and inns, where time slows down and the biggest decisions of the day are deciding where to set up the beach chairs and what to eat for dinner."
"When you're not lounging on a sandy beach, lulled by the sound of waves hitting the shore, stroll down the popular pier and check out the ocean view from the pavilion, explore the Tybee Island Light Station and Museum and savor freshly-caught seafood prepared with a Southern flair. See live alligators while you eat under shade trees at the Crab Shack, then learn more about underwater creatures at the Tybee Island Marine Science Center. Join an eco-kayak tour, nature walk or sunset cruise to explore this classic coastal town, its marshes and surrounding waters." 
Finally, before you choose Jacksonville Black Car Limo Service quality vehicles and professional drivers to transport you to Tybee this review from exploregeorgia.org should convince you that you must visit Tybee Island Georgia.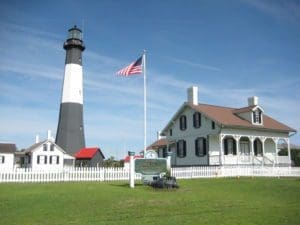 "Sand, sea and salty breezes have a charm all their own, combined with a dash of history, fresh local cuisine and an array of outdoor adventures. Tybee Island is located 20 minutes from Historic Savannah. This barrier island boasts five miles of public beaches perfect for sunbathing, people-watching, surfing, and frolicking in the sand and surf of the Atlantic Ocean. The island's south-end pier and pavilion provide the perfect venue for a picturesque view or reeling in the day's catch. The Tybee Lighthouse is one of the nation's oldest lighthouses, and was built in 1736 with a spectacular view from the top. Our Marine Science Center features aquariums showcasing our native marine life. Our eight hotels, six Bed and Breakfast inns, and some 800 houses, cottages, and condos offer outstanding options for beachfront, beach view, and marsh view locations across the island. You'll find 25 restaurants (all casual), many featuring fresh, local seafood and warm, friendly Southern smiles."
Trust Jacksonville Black Car Limo Service to provide quality transportation with our JAX airport car service or from your Jacksonville home, Airbnb or hotel to Tybee Island and you will arrive safely, in style, on time and at the right price! Call us at (904) 463-4798 for information or a Tybee Island transportation reservation, or click the Instant Quote button to see your price before you decide.