We've all experienced our share of stress and apprehension over the past couple of years. Airlines returning to regular schedules and travel masking rules ending are a welcome return to normal. But don't get overly relieved. Flying is still stressful. It's physically and psychologically draining. Your trip to and from the airport using a ground transportation car service can be a small sanctuary of calm in the turmoil.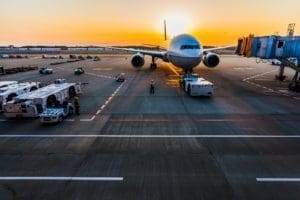 FLYING IS ALWAYS STRESSFUL
In a recent survey, more than half of the air travelers surveyed said that traveling by plane is more stressful than going to work. An astonishing 44 percent said they find air travel more anxiety-producing than visiting to the dentists office!
It should not be this way, particularly after dealing with Covid challenges. We should feel energized and happy about being able to travel freely again, whether for business or enjoyment. But there's the whole routine of dealing with boarding, parking, delays, luggage, and then experiencing what is sometimes a white-knuckle ride if the weather is bad. It's enough to suck the pleasure out of any flight.
Of course, those flying into and out of Jacksonville have other challenges. Choosing the wrong airport car service to and from JAX can be more stressful than flying. At Jacksonville Black Car Limo Service our private car service guarantees ontime and comfortable service. Plus, you get to travel in luxurious, and most notably, calm surroundings. That just is not true for the other alternatives.
INSTEAD OF DRIVING IN JACKSONVILLE USE JAX AIRPORT CAR SERVICE
Our expert team of luxury limo drivers negotiate Jacksonville's confusing roads and traffic daily. We value each of them very much for there knowledge, skill and patience. If you think the traffic is terrible in the city, it hits a new level once you get to the airport. There's a hazardous combination of rushing locals who know precisely where they need to be and confused tourists trying to figure out which terminal they need or when they should change lanes to reach the rental car drop-off. Add all the car-shares, taxis, shuttles, buses, and trucks to this mess and you can see why there are so many auto accidents near the Jacksonville airport.
Parking a car at the airport is also expensive. Many lots at JAX cost $140 for a week, and you still must deal with getting yourself and your luggage from the lot to the airline terminal, adding more stress to your travels. So doesn't it make sense to use a dependable ground transportation car service like Jacksonville Black Car Limo Service?
MORE JAX GROUND TRANSPORTATION ALTERNATIVES
We mentioned taxis plus with alternatives like Uber and Lyft also looking for your business, you definitely have choices. But these services can be even more stressful than driving yourself. Some will be unwilling to drop you at the location that is most convenient for you. Often, the driver will be more focused on there next fare than in your safety and comfort. Plus the vehicle you ride in will be very different from the comfortable private car service we offer.
Our chauffeurs are all knowledgeable professionals. They will be completely attentive to your needs and comfort, right up till the minute they drop you off close to your airline gate, or back at your home or hotel. This is why using a professional car service is so important to reduce your travel stress.
You might also think about public transportation. This appears cost-effective, but carrying a suitcase around a bus is no fun. Also, you must also do your own logistical preparation by checking changing schedules to steer clear of last-minute issues or delays
There is just nowhere better to be when traveling to and from the airport than the back seat of one of our private limos or black car SUVs. Safety, comfort, and tranquility in your own private space is what it's all about. Let your stress leave you by using our Jacksonville Car Service for your ground transportation. You will be glad you did!
Check out these and other posts on the WE LOVE JAX Blog